Foundry Operation Updates Molding Process
Overview / Challenge
A foundry operation was looking to update their molding process from jolt/squeeze to an automatic mold machine capable of producing harder sand and more compact molds. Their current equipment, built by another manufacturer, was designed to scalp sand but did not create enough force to break up the harder sand. As a result, their castings were being damaged causing workflow disruptions and sand was flowing downstream into their cleaning room.
Requirements
Handle up to 50 TPH of green sand & castings
Efficiently break down sand lumps
Improve casting quality
Reduce cleaning issues
Reduce workflow disruptions and unnecessary repairs to equipment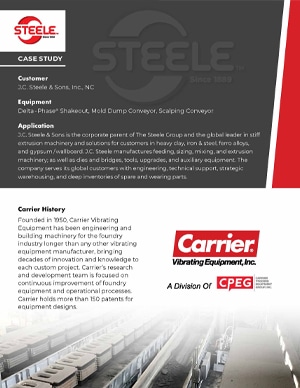 Carrier Vibrating Equipment recommended installing a vibrating mold dump conveyor that fed directly to a blank deck shakeout to perform an initial lump breakdown. The quality of the castings was addressed with the addition of a separate conveyor that gently moved the castings to Carrier's patented Delta-Phase® shakeout where scalping helped remove final nuisance carry over sand to a lower counterflow pan.