Durable Loading Spouts Stand Up to Salt Air in Cayman Islands
Overview / Challenge
National Cement in Georgetown, Cayman Islands was experiencing downtime unloading the country's portland cement from ships at port. Constant exposure to salt air makes the application tough.
Requirements
Handle up to 50 TPH of green sand & castings
Efficiently break down sand lumps
Improve casting quality
Reduce cleaning issues
Reduce workflow disruptions and unnecessary repairs to equipment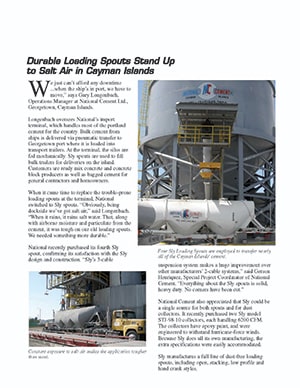 Carrier Vibrating Equipment recommended installing a vibrating mold dump conveyor that fed directly to a blank deck shakeout to perform an initial lump breakdown. The quality of the castings was addressed with the addition of a separate conveyor that gently moved the castings to Carrier's patented Delta-Phase® shakeout where scalping helped remove final nuisance carry over sand to a lower counterflow pan.