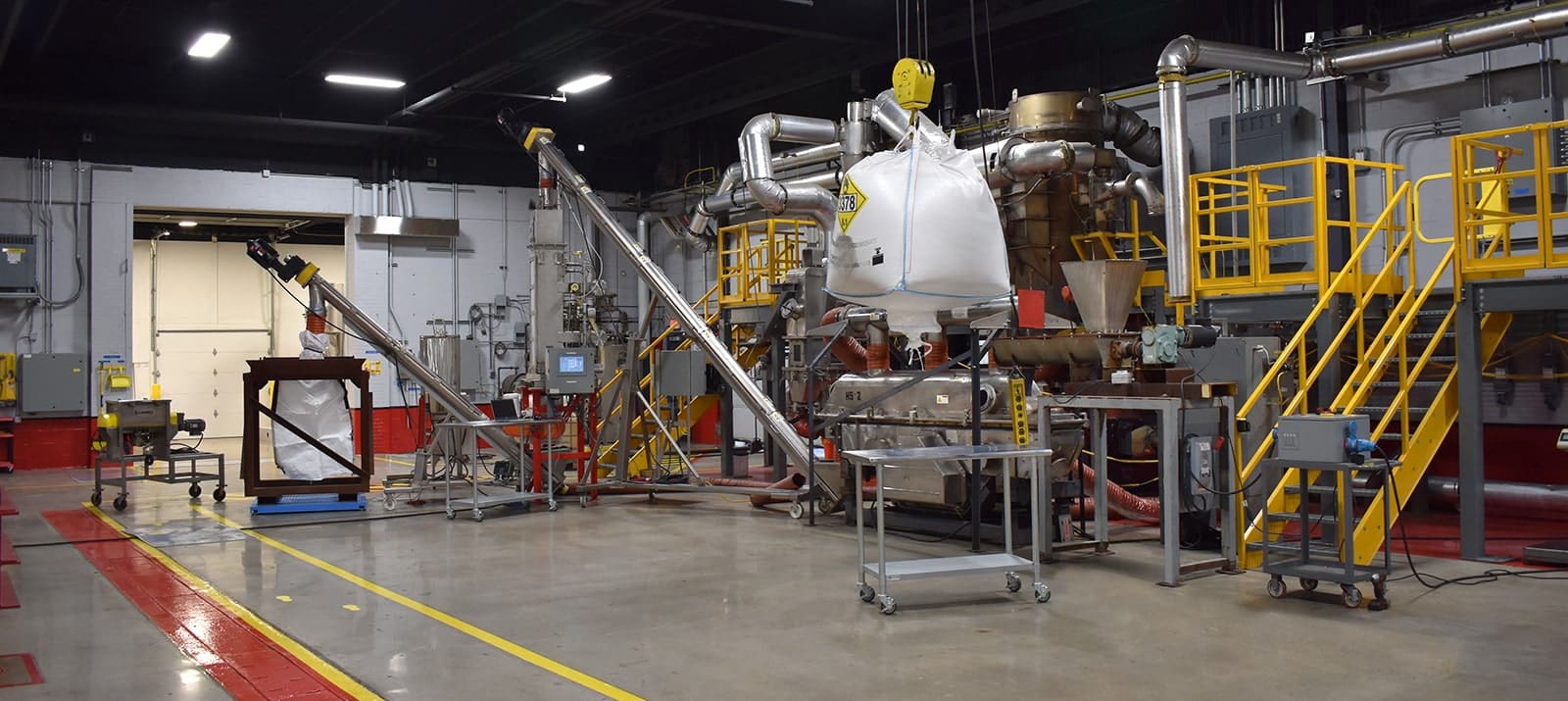 CPEG Innovation Center
Be confident in your powder and bulk solids process equipment with CPEG's state-of-the-art Innovation Center. With the most extensive testing capabilities in the industry, the CPEG test lab recreates real-world process line environments that help solve unique processing issues and verify that custom-engineered equipment meets final product or material requirements. Whether you need to test a single piece of equipment or you need to perform multistep and multistage testing with equipment from all of our brands, the CPEG test lab is fully equipped to run representative pilot scale testing.
Our Standard for Powder & Bulk Solids Process Equipment Testing
Becoming the industry's best-in-class testing lab requires more than just a comprehensive, state-of-the-art testing center. It requires having a team of knowledgeable engineers that leverage decades of experience solving difficult process issues, collaborating with you and your team to understand your process requirements and challenges, providing innovative approaches to solving these challenges, and a focus on customer satisfaction.
This is the CPEG Innovation Center standard.
Schedule a Material Test
Important – Shipping Test Material
At least three cubic ft. or a 55-gallon drum of representative material is needed for testing, but contact a CPEG sales representative to determine specific quantity and shipping requirements. Material should be shipped freight prepaid, in a returnable shipping container.

A Material Safety Data Sheet (MSDS) must be affixed to the outside of the shipping container. No test material can be opened or handled without proper documentation of material composition and the associated safety precautions to be taken by our staff. If you do not have a formal MSDS, a blank form can be faxed to you for completion. Test material will be returned to you upon completion of tests.
"*" indicates required fields
Benefits of Lab Testing with CPEG

State-of-the-Art
Facilities
Our state-of-the-art testing lab is equipped with the latest equipment, process systems, and material handling solutions. With CPEG, you can be confident that your products are being tested under the most realistic and controlled conditions, ensuring accurate and reliable results.

Experienced Equipment & Process Engineers
Our team of seasoned engineers, technicians, and researchers is the backbone of our testing lab. With years of expertise in powder and bulk solids process equipment and systems, they guide you through optimizing performance and troubleshooting challenges.

Customization, Flexibility & Innovation
We understand that your requirements are unique. That's why our Innovation Center offers unmatched customization and flexibility of lab testing equipment with support from experts that are used to providing innovative solutions for the most demanding process issues.

Comprehensive Testing Capabilities
No matter the industry or application, our testing lab is equipped to handle it all. From bulk material handling to thermal processing, separation to drying, cooling to specialized processes – we have you covered. Our comprehensive testing capabilities are unparalleled in the industry.

Collaborative, Customer-Centric Approach
We believe in building strong partnerships with our customers. Our testing lab is an integral part of our customer-centric approach, serving as a collaborative hub where our engineers engage with you to understand your requirements and provide the best possible process solutions.
Representative Samples of Your Product
Download CPEG's Lab Testing White Paper
Discover how to mitigate powder and bulk solids processing and handling issues.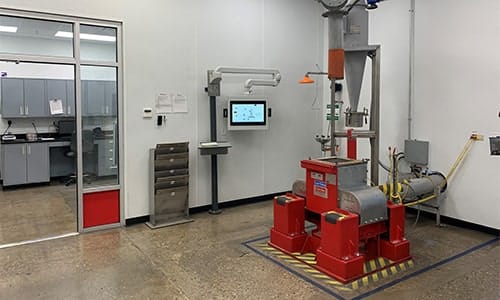 Field testing with rental equipment is available when lab testing would not effectively simulate process operating environments.
Data Analysis
CPEG also offers full analysis of material characteristics and measurements of material behavior in specific processing applications, ensuring our customers an efficient, reliable and safe solution.
Testing data is how custom equipment is engineered and sized to meet exact processing specifications. The CPEG test lab is equipped with modern diagnostic equipment and staffed with trained technicians to analyze the test results, provide recommendations, and help solve any issues. Material characteristics and behavior are tracked and analyzed with the use of computerized data collection, moisture analyzers, and particle size analysis equipment.
Maximize Productivity & Improve Profitability
Testing materials prior to purchasing process equipment is important as it validates performance, ensures equipment suitability, optimizes processes, reduces costs, mitigates risks, and ensures regulatory compliance. It allows companies to make informed decisions, select the right equipment, and maximize operational efficiency, ultimately leading to improved productivity and profitability.
Regardless of the material, we are so confident in the quality and accuracy of our Innovation Center Test Lab that we offer a process warranty on equipment built from test lab data. Additionally, process test fees are refundable against a purchase of equipment, making testing essentially free.