Bulk Flow Heat Exchanger Helps Customer Expand Through Export
Overview / Challenge
A customer makes a granular, organic wood-based product used to replace rubber infill used for artificial turf fields. The customer had been marketing and installing the product in the United States, but wanted to expand to Europe. In order to market and export this product to Europe, an additional heat treatment process was required to destroy invasive species such as insects and plant pathogens and sterilize the product to meet international regulations.
Requirements
Heat wood granules to >133°F and hold for 30 minutes
Meet international guidelines for exportation
Economical and efficient processing equipment
Must fit in a small footprint
Achieve a process rate of 8 tons/hour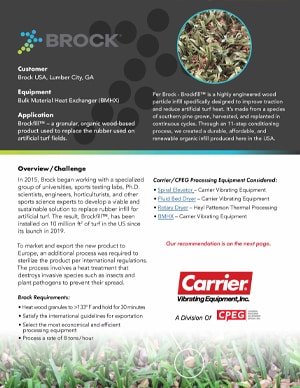 After considering all the Carrier/CPEG thermal technologies for this application, a Bulk Material Heat Exchanger (BMHX) was recommended. Testing with the BMHX validated the design showing that the solids could be indirectly heated to the required temperature and flow evenly through the device using a mass flow discharge feeder. Read the entire case study by downloading below.